Choosing the Right Wedding Makeup Artist: Questions to Ask and Considerations
Your wedding day is a momentous occasion filled with joy, love, and countless precious memories. As the bride, you deserve to look and feel your absolute best, and one of the key elements in achieving that is finding the right wedding makeup artist. The artistry of makeup can truly enhance your natural beauty and create a stunning look that reflects your personal style and enhances your confidence. However, with so many options available, choosing the perfect makeup artist can be a daunting task.
Questions to Ask During the Initial Consultation
During the initial consultation with a potential wedding makeup artist, it's crucial to gather all the necessary information to make an informed decision. This is your opportunity to delve deeper into their expertise, style, and working methods. To ensure that you're on the same page and that the artist aligns with your vision, here are some important questions to ask during this phase:
Availability and Booking Process:
Are you available on my wedding date?
How far in advance should I book your services?
What is your booking and payment process?
Do you require a deposit to secure the date?
Experience and Qualifications:
How long have you been working as a wedding makeup artist?
Have you worked on weddings similar to the style and size of mine?
Do you have any certifications or professional training in makeup artistry?
Can you provide references or testimonials from past clients?

Style and Artistic Approach:
How would you describe your signature style?
Can you adapt your style to suit different preferences and looks?
Are you open to incorporating specific ideas or inspirations I may have?
Can you show me examples of your previous work that align with my desired look?
Product Preferences and Allergies:
What makeup brands do you typically use?
Are you open to using specific products I prefer or have allergies to?
How do you ensure the hygiene and sanitation of your makeup products and tools?
Pricing and Package Details:
What are your rates for bridal makeup? Do you have different packages available?
What services are included in your packages (e.g., trial session, touch-ups)?
Are there any additional charges for travel or early morning appointments?
What is your cancellation policy and any associated fees?
By asking these questions, you'll gain valuable insights into the makeup artist's availability, experience, artistic style, product preferences, and pricing details. This information will help you assess their suitability for your wedding day and make an informed decision. Remember, the initial consultation is an opportunity for both you and the makeup artist to get to know each other and ensure a harmonious collaboration that will result in a flawless and stunning bridal look.
Considerations for Choosing the Right Makeup Artist
Selecting the perfect wedding makeup artist goes beyond their skills and experience. It's important to find someone who understands your personal style, communicates effectively, and possesses the ability to adapt to changes. Here are some essential considerations to keep in mind when making your decision:
Personal Style and Preferences:
Your wedding day is a reflection of your unique personality and style. Look for a makeup artist who can embrace your vision and translate it into a stunning look. Review their portfolio to ensure their aesthetic aligns with yours. Whether you prefer a natural, soft look or a bold, glamorous one, finding an artist who can execute your desired style is paramount.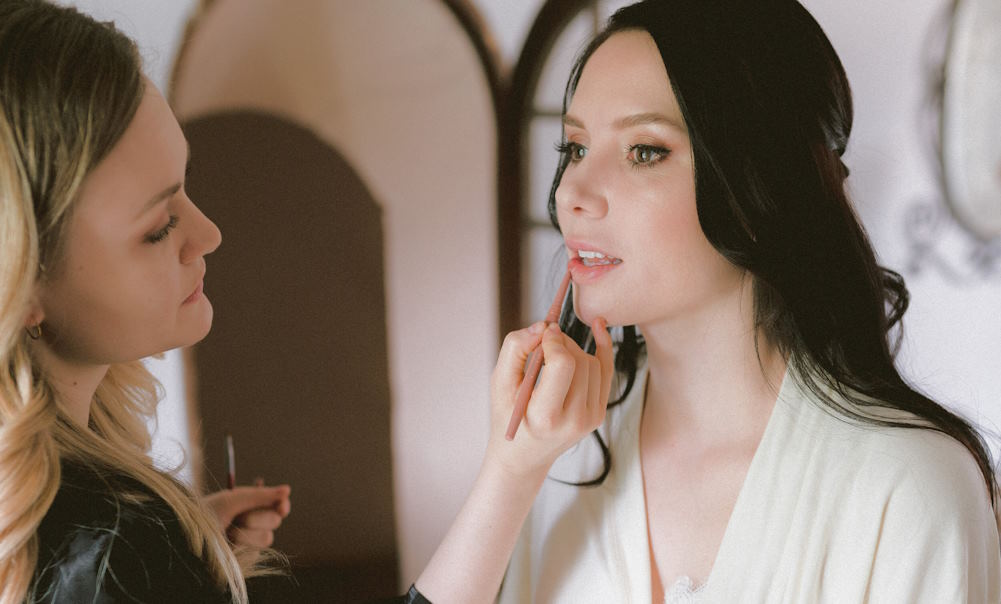 Compatibility and Comfort Level with the Artist:
Your wedding day is a whirlwind of emotions, and having a makeup artist who understands and supports you is crucial. During the initial consultation and trial session, assess their communication style, listening skills, and ability to understand your needs. Ensure you feel comfortable and at ease in their presence, as they will be an integral part of your wedding morning.
Flexibility and Adaptability to Changes:
Wedding days can be unpredictable, and last-minute changes are not uncommon. A skilled makeup artist should be able to adapt to unexpected circumstances with ease. Inquire about their ability to accommodate changes in the schedule, adjust makeup looks as per your preference, and handle any unforeseen challenges that may arise.
Understanding of Different Skin Types and Tones:
Each bride has unique skin type and tone, and it's essential to find a makeup artist who is well-versed in working with a variety of complexions. Inquire about their knowledge of different skin types and any specialized techniques they employ to ensure a flawless and long-lasting finish. A makeup artist who can customize their approach based on your skin's specific needs will contribute to a stunning and comfortable result.
Portfolio and Previous Work Samples:
One of the most effective ways to assess a makeup artist's skills and abilities is by reviewing their portfolio and previous work samples. Take the time to study their range of styles and techniques, paying attention to the diversity of looks they have created. Look for consistency in quality, attention to detail, and versatility. Additionally, ask for references or testimonials from past clients to gain further insight into their professionalism and customer satisfaction.