Bridal Makeup for Mature Skin: Tips for a Youthful and Radiant Look
When it comes to bridal makeup, every bride desires a look that exudes radiance, elegance, and timeless beauty. For brides with mature skin, achieving a youthful and radiant look may require a few extra considerations and techniques. Mature skin has unique characteristics and needs that require special attention during the makeup application process.
Foundation and Concealer Tips:
Importance of choosing the right foundation shade:
One of the crucial aspects of achieving a flawless bridal makeup look for mature skin is choosing the right foundation shade. As our skin matures, it undergoes changes in texture and tone. It's essential to find a foundation shade that matches your skin tone perfectly to create a natural and seamless finish. Opt for foundations with yellow or neutral undertones as they can help counteract any redness or sallowness that may accompany mature skin. Avoid shades that are too light or too dark, as they can make you look washed out or overly made-up. Take the time to test shades on your jawline or inner wrist to find the perfect match that will enhance your natural beauty.
Lightweight and hydrating foundation formulas for mature skin:
When it comes to foundation formulas, mature skin benefits from lightweight and hydrating options. Look for foundations that provide ample hydration to combat dryness and fine lines, while still offering buildable coverage. Avoid heavy and thick formulas that can settle into fine lines and wrinkles, emphasizing them instead of concealing them. Opt for foundations with luminous or satin finishes as they can give the skin a youthful glow without appearing overly matte or shiny. Additionally, foundations infused with ingredients like hyaluronic acid or antioxidants can help nourish and protect the skin while providing a smooth and radiant base for your bridal makeup.
Techniques for applying foundation and concealer to minimize fine lines and wrinkles:
When it comes to applying foundation and concealer on mature skin, gentle techniques can help minimize the appearance of fine lines and wrinkles. Begin by moisturizing your skin thoroughly to create a smooth canvas. Use a damp beauty sponge or a brush with soft bristles to apply foundation, gently blending it into your skin using upward strokes. Pay extra attention to areas with fine lines or wrinkles, using a tapping motion to avoid dragging or tugging on the skin. For concealer, choose a lightweight formula that matches your foundation shade and apply it sparingly only where needed, such as under the eyes or on any blemishes. Blend the concealer seamlessly with the foundation for a natural-looking finish. Remember, less is often more when it comes to mature skin, as heavy layers of makeup can settle into lines and creases.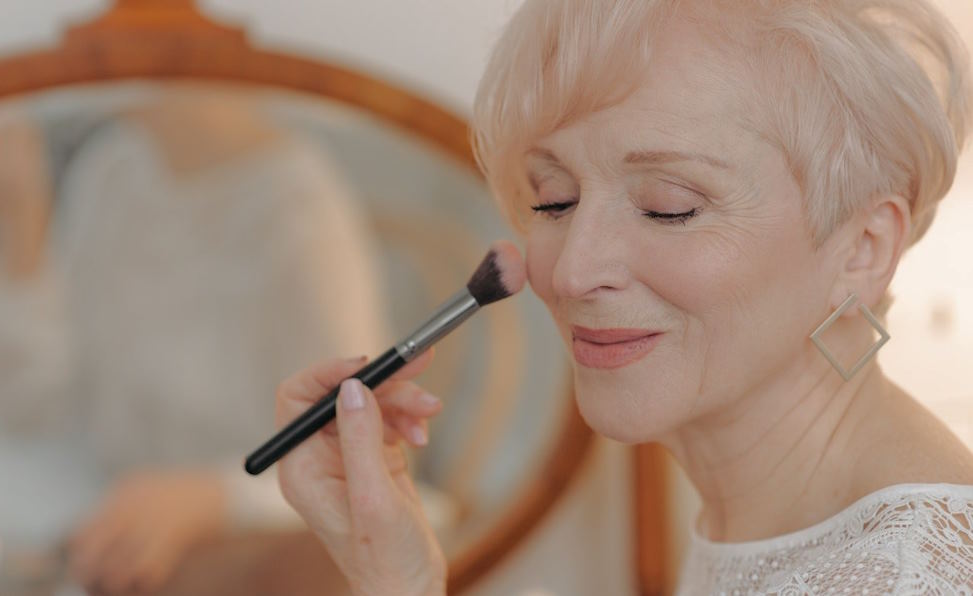 Accentuating the Eyes:
Choosing eyeshadow colors that complement mature skin tones:
When it comes to accentuating the eyes, selecting the right eyeshadow colors is key for mature skin. While there are no hard and fast rules, certain shades tend to flatter mature skin tones more than others. Neutral tones like warm browns, taupes, and soft greys work well to create depth and definition without overpowering the eyes. Earthy tones like olive, plum, and bronze can add richness and warmth. Avoid overly vibrant or shimmery shades, as they can accentuate any texture or wrinkles on the eyelids. Matte or satin finishes tend to be more forgiving on mature skin. Remember, the goal is to enhance your natural beauty and create a subtle yet captivating look.
Enhancing the eyes with eyeliner and mascara:
Eyeliner and mascara play a vital role in defining and enhancing the eyes. Opt for softer eyeliners in shades like brown or charcoal instead of harsh blacks, as they can create a more flattering and natural look. Apply eyeliner close to the lash line to create the illusion of thicker lashes without overwhelming the eyes. For mascara, choose a lengthening and volumizing formula to open up the eyes and make lashes appear fuller. Apply mascara from the roots to the tips, wiggling the wand gently to separate and coat each lash. A few coats of mascara will add drama and depth to your overall bridal makeup look.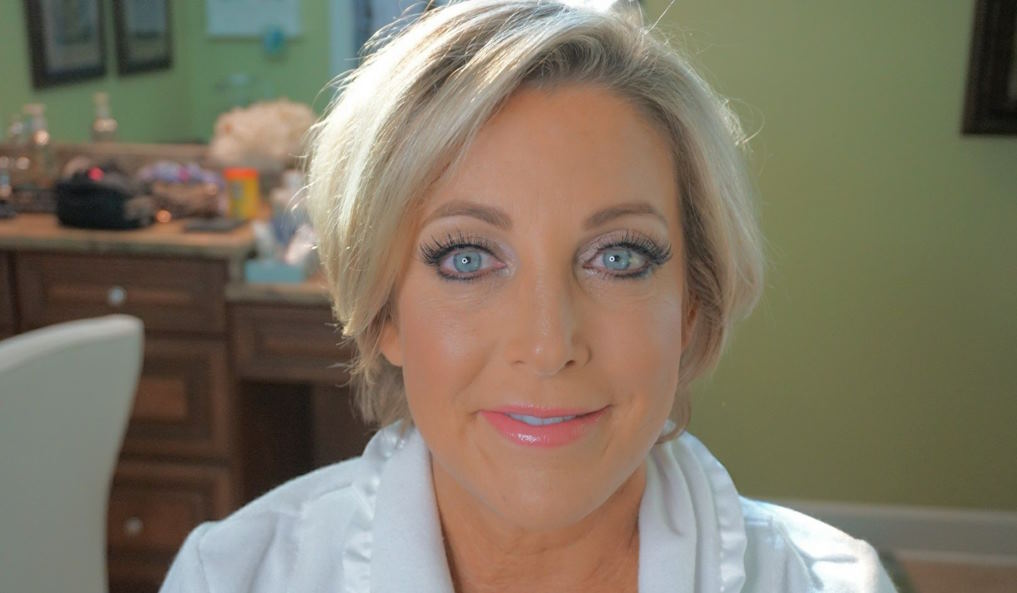 Blushing Beauty: Cheeks and Lips
Selecting blush shades for a natural flush:
Blush is a wonderful tool for adding a touch of color and vitality to the face. When choosing blush shades for mature skin, opt for colors that provide a natural flush and complement your skin tone. Soft, rosy pinks, warm peachy tones, and subtle coral shades tend to work well on mature skin, lending a healthy and youthful glow. Avoid blushes with heavy shimmer or glitter, as they can draw attention to fine lines and texture. Instead, opt for satin or matte finishes that provide a soft and natural-looking radiance. Remember to apply blush to the apples of the cheeks and blend it out towards the temples for a flattering and lifted effect.
Lipstick and lip liner choices for mature lips:
Mature lips may experience loss of volume and fine lines, requiring special attention when it comes to lipstick and lip liner choices. Opt for creamy lipstick formulas that provide hydration and nourishment to the lips, avoiding matte or drying formulas that can emphasize lines and wrinkles. Nude shades with pink or peach undertones can create a natural and youthful look. If you prefer bolder colors, opt for berry tones or classic reds, which can make a statement without overpowering the face. When using a lip liner, choose a shade that matches your natural lip color or the lipstick shade. Outline the lips to define their shape and prevent feathering, then gently blend the liner inward for a seamless finish.