Short Hair, Don't Care: Stylish Wedding Hairstyles for Short Hair
Gone are the days when long flowing locks were considered the quintessential bridal look. The modern bride confidently embraces her short hair, defying conventions and showcasing her unique sense of style. Short hair has become a statement of empowerment, and weddings are no exception. From elegant updos to chic pixie cut styles and romantic half-updos, we unveil a plethora of options that prove one thing: short hair is no obstacle when it comes to achieving a breathtaking and memorable bridal look.
Chic Pixie Cut Hairstyles for Weddings
Pixie cuts are often associated with a sleek and modern look, making them an ideal choice for brides who want to exude confidence and elegance on their wedding day. While some may think that styling a pixie cut for a wedding is limited, there are actually various ways to create stunning and chic hairstyles that perfectly complement this short haircut. Here are three captivating options to consider:
The swept-back pixie with a headband or hairpin: This style adds a touch of glamour to your pixie cut. Gently brush back your hair, sweeping it away from your face. Then, secure a beautiful headband or an exquisite hairpin to add a touch of sparkle or embellishment. This look effortlessly combines sophistication and femininity, ensuring you'll turn heads as you walk down the aisle.
The textured pixie with finger waves or curls: Create a romantic and playful vibe with this textured pixie hairstyle. Use a curling iron or hot rollers to add soft curls or finger waves to your hair. These delicate waves will give your pixie cut a whimsical twist, adding volume and dimension. Finish the look with a touch of hairspray to keep the curls in place throughout the festivities.
The sleek and polished pixie with a deep side part: For a chic and polished appearance, opt for a deep side part. Apply a styling product like a pomade or gel to achieve a sleek and shiny finish. Use a fine-toothed comb to create a clean part and smooth down your hair on one side, tucking it neatly behind your ear. This sophisticated pixie style is perfect for brides who desire a refined and timeless look.
To create these stylish pixie cut hairstyles, you'll need a few essential styling tools and products. Use a high-quality curling iron for adding waves or curls, a fine-toothed comb for achieving a precise part, and a strong-hold hairspray to ensure your hairstyle stays intact throughout the wedding celebrations.
When it comes to selecting accessories for your pixie cut, consider options that complement and enhance your hairstyle. Delicate hairpins adorned with pearls or crystals can add a touch of elegance, while a small floral crown can infuse a whimsical and romantic touch. Experiment with different accessories during your hair trials to find the perfect match for your personal style and wedding theme.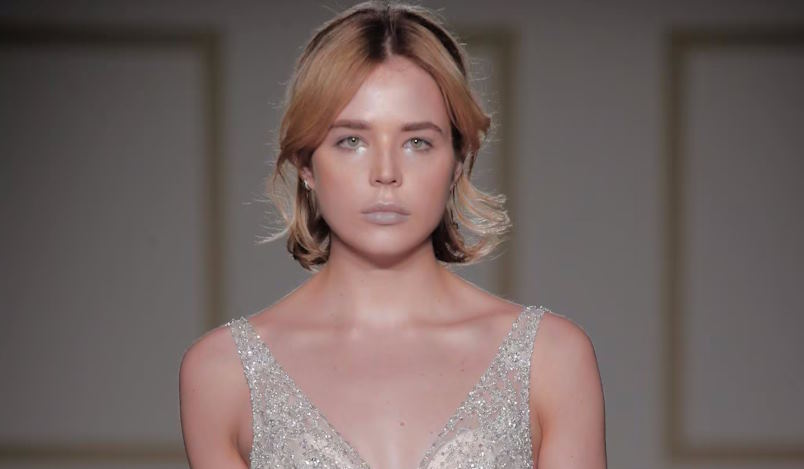 Romantic Half-Up Hairstyles for Short Hair
When it comes to short hair, there's a misconception that intricate and romantic hairstyles are out of reach. However, that couldn't be further from the truth. Half-up hairstyles are not only charming but also incredibly versatile, making them a perfect choice for brides with shorter locks. Whether you have a bob or a pixie cut, these enchanting half-updos will add a touch of romance to your wedding look. Here are three captivating options to consider:
The twisted half-updo with loose curls: Begin by curling small sections of your hair using a curling iron or hot rollers. Once you've achieved soft and loose curls, take two small sections of hair from the front and twist them towards the back of your head. Secure the twist with bobby pins, allowing the curls to cascade down your shoulders. This hairstyle strikes the perfect balance between elegance and whimsy.
The boho-inspired half-up style with braids: Create a bohemian vibe by incorporating braids into your half-up hairstyle. Take two small sections of hair from either side of your head and braid them. Once you've braided both sections, bring them together at the back of your head and secure them with bobby pins. This romantic and ethereal look pairs beautifully with flower crowns or delicate hair accessories.
The retro-inspired half-up with pin-up curls: If you're aiming for a vintage-inspired look, try this retro half-up hairstyle. Start by curling your hair with a small-barreled curling iron. Once you've curled all your hair, take small sections from the front and pin them up at the back, creating a lifted and voluminous crown. Finish by gently brushing out the curls for a soft and glamorous effect.
To recreate these romantic half-up hairstyles, follow these step-by-step instructions. Begin with clean and dry hair, and use styling products such as mousse or texturizing spray to add volume and hold. Ensure that you have bobby pins, a curling iron, and a comb handy. For a more visual guide, refer to the images provided below.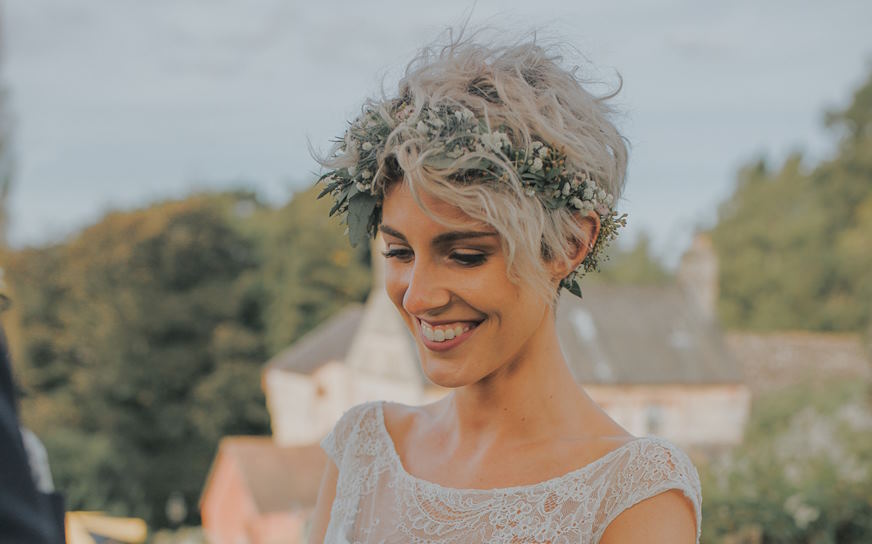 Considerations for Short Hair Accessories
When it comes to accessorizing short hair, there are plenty of options that can enhance your bridal look and showcase your personal style. While short hair may seem limited in terms of styling, accessories have the power to transform your hairstyle and add that extra touch of elegance and charm. Here are some considerations to keep in mind when selecting accessories for your short hair:
Choosing accessories that suit short hair length: Opt for accessories that are proportionate to your hair length. Delicate and smaller-sized pieces tend to work well with shorter hairstyles as they won't overpower the look. Avoid oversized accessories that may overshadow your hair or create imbalance. Consider the scale of the accessory in relation to your hair's volume and texture.
Exploring different accessory options: Short hair opens up a world of accessory possibilities. Hairpins with decorative elements such as pearls, crystals, or flowers can be strategically placed to add sparkle and sophistication to your hairstyle. Headbands can be worn to create a stylish and polished look, while tiaras can add a touch of glamour and elegance. Veils can be adapted to shorter hairstyles by placing them further back or opting for a birdcage veil for a vintage-inspired vibe.
Adding personality to short hairstyles: Accessories offer an opportunity to infuse your own personal style and flair into your bridal look. Whether you prefer a bohemian-inspired headband, a vintage-style birdcage veil, or a modern and sleek hairpin, choose accessories that reflect your unique personality. Consider incorporating elements that tie in with your wedding theme or your personal interests.